About
O2Flow is the Advanced Cytometry Research Core Facility of the VU University Medical Center established at the Department of Molecular Cell Biology & Immunology and located at the O|2 Research Building. O2Flow is a core research facility for cytometry and cell sorting that serves the research groups of the VU University Medical Center, as well as the Free University and University of Amsterdam research groups housed at the O|2 Research Building. O2Flow is also open to collaboration with other Universities and offers a wide portfolio of services to biotechnology and pharmaceutical companies.

Our facility is equipped by cutting-edge instrumentation encompassing all cytometry and sorting modalities and is supported by experienced operators and scientists.Our mission is to provide access to state-of-the-art technologies, services, and expertise in flow, imaging, and mass cytometry in order to enhance scientific discovery in fundamental and translational research at the VUmc and the O|2 Research Building.

We are committed to the continuous development and transfer of cytometry expertise and techniques to different areas of research, enhancing the role of cytometry as a key methodology in biomedical research.
O2Flow is registered as a Public Technology Hotel at the Dutch Techcentre for Life Sciences. More information here.
Instruments available at O2Flow
(1) The CyAn ADP Analyzer
The CyAn ADP is a research-only flow cytometer engineered for precision analysis of cells, bacteria, and other similarly sized particles. CyAn ADP utilizes three excitation lines (405 nm, 488 nm, and 647 nm) with independent, alignment-free focusing optics, simultaneous nine color and two scatter parameters, analysis rates of 70,000 events per second, a full 9 × 9 inter-laser compensation matrix, and high sensitivity. The instrument provides simplified compensation before, during, and after acquisition in all fluorescent parameters.
(2) BD LSRFortessa X-20
The Fortessa is a cell analyzer that delivers high performance and multicolor analysis both using manual acquisition or with the help of a high-throughput system (plate reader). Our Fortessa is configured with 4 lasers (405 nm, 488 nm, 561 nm, and 647 nm), enabling the detection of up to 20 parameters simultaneously.
(3) BD AriaFusion
The Fusion is a fixed alignment gel-coupled cuvette flow cell sorter with an easy setup and operation. Thanks to the fixed alignment, startup time is short and experiment-to-experiment and operator-to-operator reproducibility are high. Our Fusion is equipped with 5 lasers (405 nm, 445 nm, 488 nm, 561 nm, and 647 nm; the 445 nm and the 647 nm lasers are co-linear) and allows detection of up to 20 fluorescence parameters. The instrument is incorporated into a biosafety cabinet. Operation requires specialized training.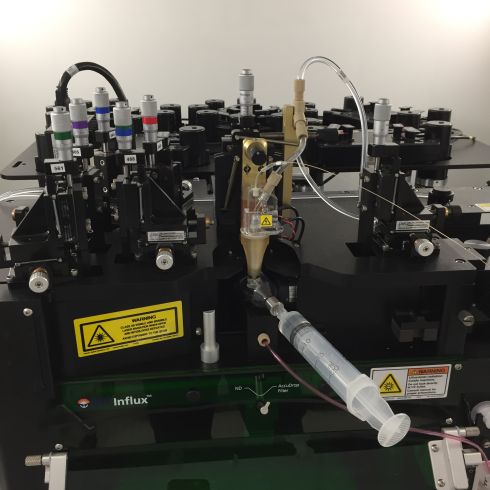 (4) BD Influx
The BD Influx cell sorter is a flexible jet-in-air based flow cytometry platform equipped with a modular architecture and a powerful combination of detection capabilities, hands-on controls, and high performance that allows customized configurations. Our Influx is equipped with 5 lasers (405 nm, 445 nm, 488 nm, 561nm, and 647 nm) providing up to 22 fluorescence parameters and is optimized for small particle detection. The Influx supports up to six-way sorting and it is incorporated within a biosafety cabinet. For assistance in sorting using Influx, please contact Tom O'Toole.
(5) Beckman Coulter MoFlo
The MoFlo is a high-performance jet-in-air cell sorter with 70, 100, 150 and 200 micron nozzle size capability that allows single cell deposition into slides, 1.5-50 ml tubes, and various size multiwell plates. Our MoFlo is configured with 3 lasers (405 nm, 488 nm, and 647 nm) and allows the detection of up to 8 fluorescence parameters. For assistance in sorting using MoFlo, please contact Tom O'Toole.
(6) CyTOF3-Helios
Helios uses inductively-coupled plasma time-of-flight (ICP-TOF) mass spectrometry to resolve the quantification of stable high molecular weight metal isotope conjugated to monoclonal antibodies. With a resolution of up to 135 mass channels, the Helios provides high-content cytometry data for biomarker discovery projects. For scientific advice in the development of panels and applications, please contact J. J. Garcia Vallejo.
(7) ImageStream X
The ImageStream X (ISX) is an imaging flow cytometer that combines the speed, sensitivity, and phenotyping abilities of flow cytometry with the detailed imagery and functional insights of microscopy. Our ISX provides up to 10 fluorescent and 2 brightfield channels in three magnifications (20X, 40X, and 60X). For operation and training, please contact Tom O'Toole. Our current applications include the study of intracellular antigen tracking, cell-cell interactions, phagocytosis, nuclear translocation of transcription factors, apoptosis, and autophagy.
(8) Software
We have three workstations equipped with the latest version of FlowJo and, in addition, we provide access to our Premium Cytobank account. FlowJo is a software that allows for the visualization and analysis of flow cytometry data. The strength of this software relies on the possibility to analyze whole experiments encompassing many related samples. With the help of FlowJo it is possible to generate statistics, plot graphs, and prepare data tables that greatly facilitate experiment reporting and publishing. Cytobank is a web-based platform that, besides allowing data visualization and analysis of flow and mass cytometry experiments, also facilitates data archiving and collaboration. In addition, we also provide support using other statistical packages such as R Studio and the implementation of high dimensional cytometry analysis algorithms.
ers.
Training and other services
All O2Flow users must attend relevant training prior to first use. Upon completion of the training modules, users will be registered to our scheduling tool and then allowed to proceed with booking and operation. First time users should get in contact with any of our facility operators.

We offer three types of training:
- Basic FACS analyzer training. This is mandatory for all new users wishing to access any of the FACS analyzers. The session consists of an introduction to flow cytometry followed by a practical hands on training session on the instruments. The training is provided in a per month basis, make sure to register on time.
- Basic sorting training. This training is mandatory for operation of the BD AriaFusion. The training is provided on demand and when a plan of experiments has been evaluated and approved. Contact Tom O'Toole or Tanja Konijn for more information.
- Analysis software training: This training is aimed at users with no or very limited prior cytometry analysis software and helps the user acquire basic operation skills on FlowJo and Cytobank. Contact J. J. Garcia Vallejo for more information.
In addition to the use of the equipment, we provide Principal Investigators with support in choosing the right method for their experimental question and applying the right data analysis approaches, as well as with the preparation of grant applications incorporating our high-end instruments. Please, get in contact with J. J. Garcia Vallejo for further support.

Register here to the scheduling tool.
The O2Flow team
Dr. Juan J. Garcia-Vallejo: Scientific director
Dr. Garcia-Vallejo is a recognized expert in the emerging field of imaging flow cytometry and mass cytometry, and since his appointment as Assistant Professor at the Dept. of Molecular Cell Biology & Immunology of the VU University Medical Center in 2014, he has focused in assembling O|2Flow, the most technologically advanced and complete cytometry facility in the Netherlands. Dr. Garcia-Vallejo recently followed an MBA program and did his thesis on the professionalization of cytometry core facilities in order to secure financial sustainability and help bridging the gap of between academic science and technology exploitation.
Tom O'Toole: Imaging flow cytometry and sorting expert
After earning an undergraduate degree from Stanford University and several experiences in the biotech industry as well as academic research institutions, Tom joined MCBI in 2002 to set a cell sorting unit. In addition to his expertise in cell sorting, Tom coordinated the drive that brought the first ImageStream in the Benelux region to the VUMC. Now, Tom divides his time between sorting and imaging flow cytometry experiments at O2Flow.

Tanja Konijn: Flow cytometry analysis and sorting expert
Tanja received her Biochemistry Bachelor's degree in 2000 and has experience working in both the biotech industry and academic research. She joined MCBI in 2005 where she has been working together with postdocs and PhD students on several projects concerning lymph node development and mucosal immunology. Since 2014, in combination with her function as technician, she became assistant at the MCBI flow facility; nowadays O|2Flow.
Jan Verhoeff: Mass cytometry expert
Jan obtained his MSc in Biomedical Engineering from the University of Twente in Enschede, Netherlands. Since early 2016 he has joined our lab as operator for the CyTOF3-Helios mass cytometer. As operator he assists in the panel design, establishes workflow, and helps in interpreting the generated data. In addition, Jan is responsible for keeping the mass cytometer ready for optimal operation.